Wolfeboro — September 20, 2008 — For years, the shores of Lake Winnipesaukee have been dotted with quaint, unassuming cottages, modest places to hang your hiking shoes or moor a boat after a day of exploring the beauty of central New Hampshire.
Nowadays, the cottages are still sought after, but in many instances, it is to tear one down to make way for something much, much larger, like the 6,000-square-foot, $3.9 million home being built on the site where a 1950s island cottage once stood.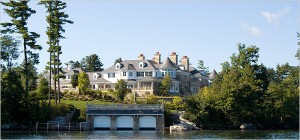 Despite a reputation for having fast boats, loud motorcycles, suburban families and rustic camps, Lake Winnipesaukee has become a retreat for the wealthy, who have built opulent waterfront homes and compounds.
"We used to be building Buicks; now we're building Bentleys," said Joe Skiffington, a luxury developer and owner of Skiffington Homes, which specializes in lakefront homes with stone fireplaces, post-and-beam screened porches and elevators. "Any waterfront has become a target for the wealthy."
The shift in the second-home market started about 10 years ago, well before the current turmoil in the real estate and financial markets, agents and economists say, as more wealthy people built houses on the lake, which is less than two hours by car from Boston and about five and a half hours from New York City.
With its rippling surface and breathtaking panoramas of mountains, islands and towering pine trees, it is no surprise that the 69.67-square-mile lake has become a major destination. Small summer cottages started popping up on the lake at the beginning of the 20th century, along with children's summer camps, said Ann Sprague of the Lake Winnipesaukee Historical Society. In the 1950s and 60s, the lake became extremely popular among middle-class families from Boston and New York, who spent vacations in small cabins or camps on its shores.
But in the 1970s, many second-home builders started buying the camp lands, Ms. Sprague said. Since then, the lake has changed. Gone are many of the cabins and the camps, replaced with the 81 homes built on its shores since 2000. Twenty-two of them are on the market, and all but two have asking prices of more than $1 million. Many of them are large Adirondack-style homes, with wooden exteriors and expansive decks, while others are more in the Nantucket style, whitewashed and window-filled.
Many of the new homes have amenities like backyard fire pits, marble tubs and finished basements that might include a full bar, an exercise room, a regulation-size pool table and a mud room, said Mr. Skiffington, who builds four or five new lakefront homes a year. Many clients are requesting elevators, he said, but they want them discreetly to resemble a closet.
These stand in stark contrast to the old cabins, small and brown, that are sprinkled among the large homes. There are 205 homes on the lake listed for sale through the local master listing service and 115 of them have asking prices of $1 million or more.
The median price of a lake home is about $1 million, according to Russ Thibeault, president of Applied Economic Research, which studies New Hampshire's economy. That figure is about double what it was in 2000, he noted, while the median price of a year-round home in New Hampshire is $237,100, about $13,000 less than what it was in 2005. The median price of a year-round house in Belknap County, where much of the lake sits, is $206,500, about $14,000 less than in 2005.
"There's been a significant shift in the market appeal of Lake Winnipesaukee," Mr. Thibeault said. "When I first moved here 30 years ago, there were a number of small camps local people — plumbers, electricians — had on the lake. You fast forward to today and the lake is really only affordable to the very affluent."
Bob Ryan, a retired foreign exchange trader from Long Island, said he and his wife started searching for a peaceful retirement home with a waterfront view about four years ago, looking in the Hamptons, Pennsylvania and along the Connecticut River. They happened upon Lake Winnipesaukee while searching for property in New Hampshire last year and immediately realized it was where they wanted to live.
"It is what we were looking for and more," said Mr. Ryan. "This is the place I wish I bought 20 years ago."
He said he likes that his home is five miles from a town, secluded and quiet. There is no lack of things to do, with restaurants nearby and minor league sporting events within an hour-and-a-half drive away, in Manchester or in Portland, Me.
He was loath to look in eastern New Hampshire, as he thought it was too crowded, but found out that is not the case.
"Winnipesaukee is tucked in the middle," he said. "You have to get to it. You don't just stumble on it. It's a jewel."
Mr. Ryan and his wife bought a 5,200-square-foot home in Alton, and every room has a lake view, he said. Mr. Ryan would not say how much he paid, but public records show the home was purchased for $1.8 million last August.
The expansion of the nearby Laconia Airport about three years ago made the area a destination for those with private jets, dozens of which are parked there each weekend.
The lake also counts the extremely wealthy and famous among its summer residents. Mitt Romney, the former presidential candidate and governor of Massachusetts, owns a home in Wolfeboro and President Nicolas Sarkozy of France stayed at the Wolfeboro home of a Microsoft executive last summer. The Marriott family owns a compound in Wolfeboro, and Bob Bahre, a former owner of the New Hampshire Motor Speedway, owns a 29,000-square-foot house in Alton.
In an interview, Mr. Romney said he summered as a child at the Marriotts' compound, and brought his five sons up each summer for boating. He and his wife, Ann, purchased a home in Wolfeboro 12 years ago. Mr. Romney said the low-key atmosphere and watersports were the driving factors behind their purchase.
"It's not a social scene for people looking for jet setters and social events, as I'm sure places in the Hamptons or other venues are much higher on that scale," Mr. Romney said. "This is very much New England, with understatement and privacy as some of the key features."
Property records show that Ann Romney purchased a home for $2.5 million in 1997 and another property for $84,900 in 2004.
But mostly it is business executives who are buying on the lake, many of them in preparation for retirement, said Susan Bradley, an agent with Coldwell Banker in Laconia.
"It's really been a rapid trend change," said Ms. Bradley, who sells homes on Governors Island, one of the lake's most sought-after addresses. "Even 10 years ago, we didn't see numbers like this. We saw bigger homes being built, not to the magnitude that we're seeing now."
Naturally , the most affluent want to live right on the water. As more and more pieces of waterfront land are being bought — especially in Wolfeboro, the wealthiest of the towns — prices are rising.
"It's liquid gold," said Dennis Schauer, an agent with Prudential Spencer-Hughes in Wolfeboro. "They're not making any more waterfront."
That means that villages like Moultonborough, the most rural of the towns on the lake; Gilford, known for its campgrounds; and Laconia, home of the annual Motorcycle Week, are all seeing dramatic changes.
Steve Alley, who has lived in Gilford all his life, grew up among rustic summer camps, which gave way to small homes and now mansions. Mr. Alley knew it was just a matter of time before the lake attracted the wealthy.
"We're two hours from Boston, an hour to the Mount Washington Valley, two hours to the beach," Mr. Alley said. "And what we have right here is paradise."
Some residents aren't so sure any more. David St. Cyr, 60, who owns a small cabin in Alton, thinks the recent influx makes the lake too crowded. He refuses to take his boat out because of all the traffic, and said he couldn't now afford to buy the cabin he and his wife bought in 1983 and live in.
"Now, if you don't have money here, you ain't getting nothing," he said.