Ossipee — April 3, 2008 — Ossipee Conservation Commission has purchased the Route 16 "Window on the Ossipee Mountains" property for conservation open space. The announcement was made today by Elizabeth Gillette, the Commission's Chair. The purchase of the 26.6-acre site for $250,000 follows a 15-month fundraising drive to protect a unique scenic view of the Ossipee Range as well as valuable wildlife habitat, open space and the underlying aquifer.
"Many wonderful people helped to protect this special property," Gillette said in making the announcement, "and the Commission wishes to thank every individual, business and non-profit foundation and organization that has supported the project."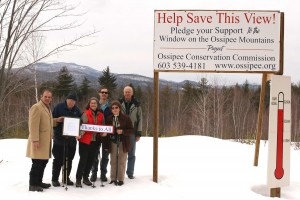 A scenic overlook and nature trail are planned for permanent public access and conservation education. The property is to remain conservation open space in perpetuity as a result of a conservation easement acquired by The Dan Hole Pond Watershed Trust, an Ossipee-based land trust, with funds raised for the project.
The lot is bordered by conservation lands, so its purchase extends the green corridor of protected land on Route 16. It will be managed for the town of Ossipee by the Conservation Commission.
Funds to buy the property included over $130,000 in individual donations plus $60,000 in Conservation Commission funds, $18,000 from The Dan Hole Pond Watershed Trust, a $15,000 New Hampshire Charitable Foundation grant, an $8,000 grant from The Little Family Foundation, and an $8,000 grant from the Fields Pond Foundation.
More than $8,000 was donated by the local business community, including $5,000 from Pike Industries. Green Mountain Conservation Group, the Ossipee Lake Alliance and the Greater Ossipee Area Chamber of Commerce also helped promote and raise funds for the project. A $1,500 grant from the New England Grassroots Environment Fund enabled initial fundraising to begin in May 2007.
"Private donations, especially in recent weeks as we neared our goal, have been extraordinarily generous, and we are very grateful to these donors," Gillette said.
To meet the seller's April 1 deadline the Commission advanced additional conservation funds it expects to recover as outstanding grant applications are reviewed. Funds to create the scenic overlook and nature trail will be raised through 2008 with scheduled construction to begin 2008-2009.