[This story also includes material by Trevor Maxwell of the Portland Press Herald and Christopher Williams of SunJournal.com]
Portland – September 21, 2008 – A Massachusetts boater accused of causing a collision that killed two people on a Maine lake testified Friday his boat was traveling at just 30 mph at the time of the crash. He also said he drank three beers that day, far fewer than the prosecution says. Robert LaPointe gave a dramatic account of events leading up to the collision, which he said came out of nowhere, leaving him and his passenger floundering in the water as his powerboat roared ashore and into some woods.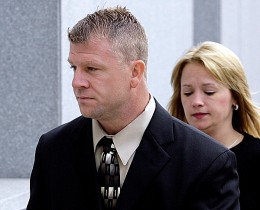 LaPointe and wife Heather enter court. AP Photo: Joel Page
At first, LaPointe thought he hit a raft or a log or a floating dock that had broken loose on the night of Aug. 11, 2007, on Long Lake in Harrison, he testified. It wasn't until the following day that he saw the remains of a smaller boat he'd run over and learned that two people were missing, he said. LaPointe was headed north at the same time Trott and Groetzinger were out on the water to watch a meteor shower, investigators have said.
The bodies of Terry Raye Trott, 55, of Harrison, and Suzanne Groetzinger, 44, of Berwick, were recovered three days later. LaPointe, 39, of Medway, Mass., is charged with two counts of manslaughter and aggravated operating under the influence. LaPointe was driving his new speedboat, equipped with twin 425-horsepower engines. Trott and Groetzinger were in Trott's 14-foot boat with a 115-horsepower outboard motor.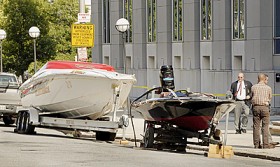 The two boats involved in the fatal Aug. 2007 accident on Long Lake in Harrison are parked outside the Cumberland County Courthouse in Portland for the jury's inspection. AP Photo: Jack Milton
LaPointe took the stand on Friday in his own defense to rebut key elements of the prosecution's case: that he drank six or more beers before operating his boat, that he was speeding at 45 mph — possibly faster — on a dark, moonless night, and that he suggested that a nurse substitute her blood for his for a blood alcohol test.
On cross-examination, he maintained that the crash occurred because the other boat didn't have any navigational lights, not because he was reckless or drunk.
"It's like going out on a highway [in a car], shutting your lights off and sitting there," LaPointe said.
LaPointe said Friday he was careful when he shoved off in his boat shortly before the fatal collision because there was a lot of traffic on the lake. Later, he said he sped up to 30 mph before being startled by "a violent impact on my boat like we had hit something." He and his passenger were thrown into the water and swam 1,800 feet to safety while his boat continued across the lake and traveled 160 feet into the woods.
LaPointe testified that he repeatedly told Warden Jason Luce that he'd been operating at 30 mph, but the warden insisted the boat must have been going faster. At one point, "I looked up and said, 'maybe 40, maybe 45,"' LaPointe said Friday, suggesting that he felt pressured into making the statement.
During the cross-examination, Cumberland County District Attorney Stephanie Anderson played taped conversations between Luce and LaPointe, recorded in the warden's truck around 10 p.m. and then at Bridgton Hospital around midnight. On the tapes, LaPointe repeatedly tells the warden that he was going about 45 mph and that he had six to eight beers over the course of the day. But LaPointe told Anderson that the tape contained only portions of his interview with Luce, and that he earlier had told him he was going 30 mph.
Drinking at Issue
Maine State Crime Laboratory chemist Steve Pierce estimated that LaPointe's blood-alcohol level at the time of the crash was about .15 percent, nearly twice the legal driving limit in Maine. He said it could have ranged between .11 percent and .18 percent. Three hours after the crash, at the time a nurse drew his blood, the level of alcohol in his blood was .11 percent.
Defense attorney J. Albert Johnson of Boston sought to discredit Pierce's estimation, citing articles on the subject, calling it scientifically unreliable. He also, during cross-examination, questioned the reliability of the blood-alcohol testing procedures at the state's lab.
LaPointe meticulously recounted everything he had to drink that day, from Gatorade to beer. He handled six beers during the day, he said, but insisted he drank only three. He took only a sip of a beer he ordered with lunch at a Naples restaurant and opted for a Sprite instead, he said.
Late that afternoon, he drank two Bud Lights while with friends at a popular sandbar on the lake, but spilled another before drinking any of it. That night, he grabbed two beers while tied up to a friend's pontoon boat, but drank only one of them before departing, he testified.
He suggested there could have been a misunderstanding with the nurse who took his blood sample three hours after the crash. She testified he indicated he wanted her to draw her own blood for the sample. But LaPointe said he merely asked her what she would do in his situation, had she been asked to give a blood sample.
Anderson said the blood alcohol test results are consistent with someone who had been drinking all day, and that LaPointe had told a nurse that that's what he had been doing.
"Isn't it true you drank 12 beers that day?" she asked. LaPointe denied the assertion.
Light on Smaller Boat May Have Been Out
LaPointe testified that he and his passenger, 19-year old Nicole Randall, had seen Trott's boat pass them, without lights, about five minutes before the crash. He said he saw the boat veer off to the right, as if headed for shore.
"I said, 'Turn your freaking lights on,'" LaPointe testified.
He said he got a cell phone call from his wife, Heather, around that time to inform him that one of his children was sick. LaPointe said he told her he would head home early in the morning. He said he throttled up and headed north on Long Lake toward his boat's slip at the Harrison Marina.
Over the course of the trial, witnesses have provided conflicting testimony as to whether the lights on Trott's boat were on. Anderson challenged LaPointe several times to explain why he throttled up, just after seeing a boat with no lights.
"Why didn't you crawl back to Harrison?" Anderson asked.
"A long time had passed. I figured he went to shore," LaPointe said.
LaPointe said the tapes caught only a small portion of his conversations with the warden. At one point during the conversation in Luce's truck, LaPointe heard radio traffic about boat information and GPS coordinates.
"Did they find a boat out there?" LaPointe asked an emergency medical technician. "I think so, but I don't know that," the technician answered. "Oh, man, what would you be doing out in the middle of the lake with no lights?" LaPointe asked.
Crash Reconstruction Expert Testifies
Earlier in the week, an expert in marine navigation and safety testified he believed the craft was traveling at 50-65 mph at the time of impact. The 32-foot cigarette-style boat appeared to have hit the smaller boat from behind, said William Chilcott, who specializes in boat crash reconstruction.
He said the larger boat was at fault, regardless of whether the smaller boat's lights were turned on at the time. The cause of the crash was high speed at night, he said. Chilcott said LaPointe's boat would have become airborne after the initial contact. He could make out no scratches on the foredeck of the smaller boat.
The speedboat would have landed on its bow and veered off to the right at the same speed as before the crash, Chilcott said. A medical examiner testified that both Trott and Groetzinger sustained severe injuries, likely from the propellers on LaPointe's boat.
LaPointe probably did not have his hands on the engines' throttles when it hit Trott's boat, Chilcott said. Otherwise, he likely would have injured his wrist.
The distance LaPointe's boat traveled after it ran aground helped Chilcott estimate its speed before the crash, he said. It hit the east shore at Bear Point near the Naples town line and traveled 160 feet into woods with its engines still running, according to reports.
"It went farthest up a hill that I've ever seen a boat go," he said.
A Maine game warden said earlier Monday that the driver's seat in LaPointe's boat was in the up position, suggesting he was seated at the time of the crash, thereby limiting his visibility of obstructions in the water ahead of the boat.
After examining the filament of the light wand on the back of Trott's boat, Chilcott said it likely wasn't lit at the time of the crash. Even if Trott's bow lights had been lit, which they might have been because the switch was pulled out in the "On" position, LaPointe might not have seen them because he approached from behind, Chilcott said.
According to the rules of navigation, LaPointe should have: looked out for objects in the water better; operated at a safer speed; better assessed his risk of collision; and taken action to avoid an obstacle. Moreover, he said, the overtaking boat must give way to the boat in front and steer clear of it.
Whether Trott's lights were working or LaPointe was going slower than the speed estimated by Chilcott doesn't change the conclusion that LaPointe was at fault, Chilcott said.
After viewing the boats involved in the crash on a screen in the courtroom last week, the jury got to see them first hand. Prosecutors had the boats brought to Portland and parked in front of the courthouse. Jurors circled the boats, bending to peer at the propellers and climbing a ladder to gaze inside the larger boat.
They inspected the scrape marks on the bow of LaPointe's boat named, "No Patience," written large in orange and yellow letters across its side. LaPointe's boat was parked behind the smaller boat, but was moved in front of it before the jury viewed the boats, at the request of defense attorneys.
The LaPointe crash and another fatal crash this year involving a cigarette boat allegedly traveling at high speed in nighttime conditions on Lake Winnipesaukee have spurred discussion on whether steps need to be taken to better protect boaters on lakes and ponds. Critics contend LaPointe's 32-foot speedboat with twin 435-horsepower engines was too big for a busy lake that's 12 miles long but just a mile wide.
Closing arguments in the case are scheduled for Monday.