Freedom — February 1, 2009 — It took Mother Nature a little while to bring us real winter for Ossipee Lake, but we are in the middle of it all now. In the last two weeks, temperatures have been below zero most nights. As far down as –16 several times. Always above zero during the day and sometimes in upper 20s.
As for snow, the 14" on Dec. 21 had almost melted away by early January and then we had two storms at 4" and two at 12". The most recent was last Wednesday, the 28th. It has been a dry snow that plows and blows easily. The state, the towns, the businesses and local homeowners have been on top of the situation, and all is back to normal by noon after the storm. So far no ice storms or power outages other than one brief outage in downtown Freedom in December.
The dam is wide open and reported lake level is a few inches below 405'. Drove over the the Route 153 bridge this morning and noted a good flow of water. As usual there is open water just south of the Broad Bay marina. Some snowmobile activity on the lake. I was raking snow off my garage Friday afternoon and heard what sounded like a jet ski on the lake – that can't be. It was a snowmobile. Must have been thinking spring.
Frost heaves are starting to show up, but so far not as bad as in previous years. The Lake Road is in good shape. NOTE: I paid $1.71/gal for regular at Irving/Hannaford in Ossipee this morning.
I do not ski but had my first experience taking a grandson to the Adoptive Training Program at King Pine for special needs children.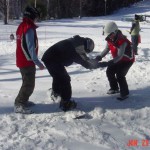 The program, the people and the facilities were excellent. I also saw part of the training program for little ones without special needs.
If you live in the area this winter or will be coming for a visit, check it out. Oh, to be young again!
THINK SPRING