[If you were at the Old Home Week parade on Saturday, you saw Freedom's new "Snowbulance." The following article and photo, reprinted courtesy of The Daily News Online of Newburyport, MA., tells how and why the rescue device came to reside in our town. You can also link to the original story by clicking here].

Byfield, MA — August August 2, 2009 — Families deal with tragedy in their own way. When tragedy struck the Haynes family of Byfield [MA], they saw it as a call to action. The results of their action arrived in a small White Mountains town Tuesday night, when Bob Haynes delivered a fully equipped Snowbulance to the Freedom, N.H., Fire Department.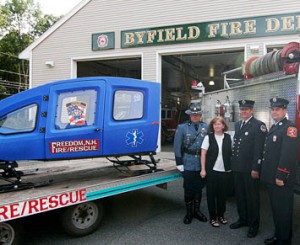 Manufactured by a Canadian company, a Snowbulance is designed as an emergency medical transport in areas that can't be reached by conventional wheeled vehicles.
Haynes, his wife, Sheila, and his sons Tim and Patrick, are donating the Snowbulance to the rescue service in the town where their son and brother, Chris, suffered fatal injuries in a snowmobile accident on March 1.
"This is going to be a tremendous, tremendous help," said Freedom fire Chief Gene Doe. "We have a lot of snow machine trails, but we didn't have anything that could get out on the trails."
Family members and friends gathered for a look at the Snowbulance last week at the Byfield Fire Department, where Bob Haynes has been a firefighter and emergency medical technician for 30 years.
Although Chris Haynes was wearing a helmet, he sustained serious head injuries when he was thrown from his snowmobile after he hit a ridge while riding at Lake Ossipee. Because of his remote location, rescue crews from Freedom and West Ossipee, N.H., lost critical minutes in evacuating Haynes, first to Huggins Hospital in Wolfeboro, N.H., and then by helicopter to Dartmouth-Hitchcock Medical Center in Lebanon.
"The biggest problem was getting in there (to the accident scene)," Bob Haynes said. "It's four-wheeler country up there."
Chris Haynes died on March 5. He was 36.
The family's devastation quickly turned to determination.
Patrick, a Massachusetts State Police trooper at the Danvers barracks, and Tim, an Amesbury firefighter, knew almost immediately that they wanted to do something substantive to honor their brother.
"Patrick came up to me and said he wanted to do something other than flowers," Tim Haynes said.
Each brother credits the other with coming up with idea of obtaining a rescue vehicle.
"It was important to us to have some way to make something positive come out of it," Patrick Haynes said.
A vehicle made the most sense, Bob Haynes said, because Chris was a skilled and enthusiastic mechanic.
"If it had a set of wheels on it, he'd put a motor in it," he said.
Bob Haynes said he and Chris and a friend, Keith Perrault, had rebuilt the Byfield Fire Department's Forestry 1 engine. After some research, Bob Haynes found the Snowbulance, made by the Manitoba-based Equinox Industries Ltd., and the family went to work raising funds to purchase one. The money started coming in as soon as word of the project got around.
Eventually, they received donation from every state, "including Hawaii," Bob Haynes said.
Although some local companies made large contributions, most of the funds came from small donations.
"People gave their coffee money," Bob Haynes said
"His friends were the biggest factor, and he's got so many friends," Tim Haynes said. "I'm a little surprised we raised the money so quickly. We really thank our family and friends, and the people he worked with. I'm amazed we were able to do this in such a short time."
Bob Haynes bought and modified a 24-foot trailer to carry the Snowbulance.
Equinox Industries gave the family the equipment at cost, which in turn allowed the Hayneses to obtain additional options, such as an aluminum stretcher, and interior light and heater, and a conversion kit from skis to wheels so it can be towed by either a snowmobile or an all-terrain vehicle.
The family was able to raise enough money to also make a cash donation to the West Ossipee Fire Department, the crew that actually evacuated Chris Haynes after the accident.
The Snowbulance…will be officially dedicated at a ceremony in September, but Tim Haynes said the family wants to get it into service immediately.
"We want to get it up there as soon as possible," he said. "If we can help one person, that's the goal."