Freedom — August 20, 2009 — Although members of the Thurrell and Pascoe families have spread all over the country, the serene waters of Ossipee Lake beckons for them one generation at a time. During the Thurrell-Pascoe family reunions every other year in late July, roughly 100 people gather at the northern end of the lake for a three day celebration, according to family members.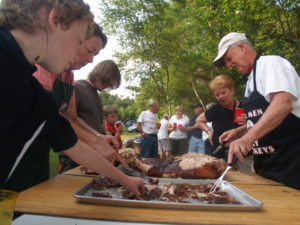 This year's kick-off barbeque marked the first official day of the 2009 reunion held at the Pascoe family summer house on Ossipee Lake Road near Camp Calumet. The younger ones took to the beach and swam to an inflatable water trampoline in the lake while many of the adults chatted on the lawn. All seemed equally enthusiastic about coming back to New Hampshire.
"I love it," said Maggie Dods, 12, of Linwood New Jersey as she played pass with a football.
"It's really nice and peaceful, there's a lot of stuff to do, and it's nice to be with family."
Dods is the granddaughter of Larry Thurrell, who is a patriarch of the family along with his older brother Roger. Their brothers, Bob Jr., and Phip, have passed away. Family members ranged in age from one to 83.
The Thurrell and Pascoe families were linked on November 23, 1950 with the marriage of Roger Thurrell and Dorothy Pascoe. They had two children, Lindy and Marc, who now own the Pascoe summer home. Also, members of both families attended high school together at Brewster Academy in Wolfeboro.
Both clans have deep roots in the region. Two generations of the Thurrells ran the now defunct Cotton Mountain Farms of Wolfeboro — one of the largest New England chicken farms in its day, until the 1950s. The first Pascoe moved to the area in the mid to late 1800s. Dick and Nancy Pascoe ran Shawtown Campground (now the Danforth Bay Camping Resort). Dick Pascoe, who died in 2007, was known for his barnstorming in a bright yellow biplane, relatives say.
Lindy Thurrell, 57, now lives in Orange County California, but every summer she and her family come back to stay at the summer home, which was built by her grandfather Bill Pascoe in the 1955.
"I've spent almost every summer of my life here," she said.
The solid-looking summer home has a living room with a fireplace and an attached kitchen; two bedrooms, a screened in porch, and a bathroom. †In the backyard, there is a vibrant flower garden featuring red lilies that are almost four feet tall. Family members set up tents further back in the yard.
Some said the reunion must be a boon to the local economy because many others rent hotel space. An of course there is a lot of food shopping. Lindy Thurrell's family enjoys New Hampshire because it offers a calmer atmosphere that's less materialistic than California, she said.
In fact, her eldest daughter, Caitlin Gillenwater, 20, is moving from California to New Hampshire so she can take a position with MedStar, a private ambulance service based in Ossipee. She has only seen a local winter once and she said there was a lot of snow.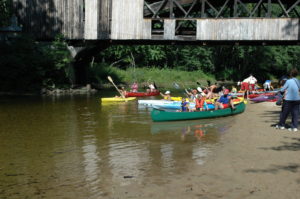 "I came up here every summer and I always wanted to stay," said Gillenwater, who describes her time in New Hampshire as "relaxing."
Larry Thurrell, 73, may have a residence in Delaware, but he has a summer home in Wolfeboro. Larry Thurrell said his "big joy" is to see the young people enjoying themselves on the local lakes.
Larry's father, Robert Thurrell, Sr. and his wife, Flossie, started the Cotton Mountain Farms in the 1922 with almost two-dozen hens and a rooster. Over the years it grew to the point where the farm would sell 1 to 1.5 million chicks annually, according to Roger and Larry Thurrell.
Chicken barbeque became a family specialty in the farm's heyday. The Thurrells say one year Dwight Eisenhower was their guest when he was campaigning for the presidency around 1952.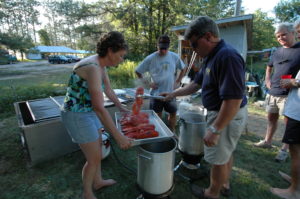 At the Thursday start of the reunion, Bob Reynolds, 56, (who married Phyllis Thurrell) was doing the cooking. By tradition, the Thursday night meal is different at every event. They decide who cooks it by rotation. The Friday night meal is always lobster and the Saturday night is always chicken barbeque in honor of the Thurrell's old farm.
Reynolds wasn't doing a regular chicken and pork barbeque. It was Cajun style. The pig was cooked in a large device called a "Cajun microwave." It consisted of a plywood box with two trays on top that hold the charcoal. The pig goes in the box and the heat source is actually above it.
Many people have said the "Cajun Microwave" couldn't possibly work because it looks so counterintuitive, said Reynolds. But, he said, that style cooking takes less than half the time of more conventional methods. In fact, it can cook a 60-pound pig in about six hours. Reynolds and some assistants also manned two deep fryers, which were cooking turkeys.
Reynold's family comes from Louisiana but currently he lives in Ohio. In 2005, he and his wife bought a summer home on Ossipee Lake. Phyllis jokes that she had two "requests" in finding the perfect second house. First, it had to be lakefront. Secondly, it had to be on Ossipee Lake.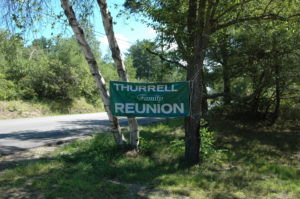 According to Ossipee Lake Alliance's Executive Director, David Smith, the family reunion illustrates Ossipee Lake's appeal. In an e-mail he wrote that members of the second and third generations are returning, such as Phyllis Thurrell and Reynolds, who is on the alliance's board.
"We always say Ossipee Lake holds sway over the head and heart like no other lake, and this family is a great example of that pull back to the area," he stated.