Freedom — October 2, 2009 — What began as an experiment this summer has developed into a growing business with the hiring of village resident Nancy Griffin as manager of the Freedom Village Store. Griffin brings enthusiasm and experience to the venture, which is part of a plan to increase business in the village while retaining its unique small town character.
The New Hampshire native and her husband moved to Freedom a year ago from Rhode Island. Within a few months, she was volunteering at the library and teaching a course there in basic computer skills. When the shuttered landmark general store at the center of the village reopened in July, she volunteered there too, catching the attention of the store's Board of Directors for her interest and enthusiasm.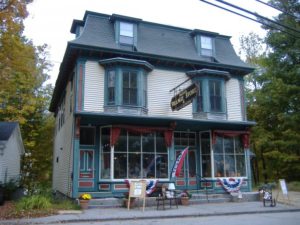 Griffin's background includes extensive experience in retail and customer service – precisely the kind of skills that will be needed to keep the store humming with the customers who already have made it a regular destination for the morning newspaper, coffee and a home-made muffin or scone supplied by a local professional baker.
Other baked goods are for sale there as well, including cookies and pies, and the seating area is surrounded by consignment items from note cards to paintings to hand-made fleece hats and doll clothes. The store's regular hours are Wednesday through Sunday, 9 a.m. to 1 p.m.
Last month the store hosted a successful evening of live entertainment by the acoustic bluegrass group Codfish Aristocracy, and Griffin says they will be back for a return engagement. Also in the works for evening events are Halloween programs, card games and board games, cookie swaps and "meet the local artist" nights. A Volunteer Appreciation Night is planned for Thursday, October 22.
In addition to attracting customers with food, consignment goods and entertainment, Griffin plans to use the store this fall to host a Red Cross community blood drive and provide a place for the VNA to offer flu shots.
"The plans are endless, and I am so excited to be part of this venture," she said in an email note to the Alliance.
To help give the store some added visibility, Griffin set up a Facebook page this week where within hours people started registering as fans of the store. Facebook members can become a fan by entering "Freedom Village Store" in Facebook's search box, after which they will be able to interact online with the store and its other fans, as well as keep tabs on announcements and events. Facebook membership is free, and access is at www.facebook.com.
Griffin says the store is also continuing to look for volunteers to help out in various ways. People interested in doing so can contact her at freedomvillagestore@gmail.com.