Ossipee — October 25, 2009 — This week, I did the 5.4 mile round trip hike on Mount Roberts (2,582 feet) in the Ossipee Range. I went with Bob Garrison of Henniker, also known as the "Trail Bandit." Widely known for his self motivated trail work and map making, he has come under scrutiny recently with his recently published map of the Ossipee Range, a unique circular mountain range that is almost all private land.
Since his map appeared, and likely totally unrelated, the use of herbicide by unknown parties on trails and numerous stone fire circles has caused Chocorua Forestlands to close their 5,372 acre Forest Legacy Tract in the range. Written permission must be acquired now from the owner to hike there. Other landowners have felt compelled to take protective action; for example, the closing of a trailhead. Unlike the nearby national forest, open to all, people are protective of their land there. This is yet another interesting development in the history of this unique place.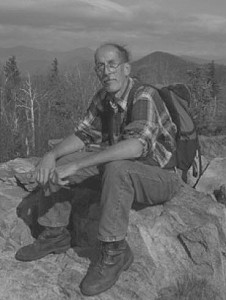 Hikers love maps, and the Trail Bandit's is no exception. But many agree that he didn't produce it in quite the correct manner. What makes it complicated is that he did many things right. For example, he sent letters to landowners who have a trail on their land to get permission to put it on the map. Some responded and asked that their trail not be put on, and he took it off. On the other hand, one landowner in particular didn't respond, and he put their trail on the map anyway as a red line, designating it as a major trail. That trail has since been closed to the public, and permission is needed to hike there.
I haven't known the Bandit personally. Recently I was contacted by David Smith of the Ossipee Lake Alliance. In the past, Smith has posted some of my outdoor columns on ossipeelake.org. I have enjoyed his enjoyment of my writing. A camp owner on the lake and a resident of Connecticut, he is always looking for interesting items about this area. Curious about Bob Garrison, aka the Trail Bandit, he initiated e-mail contact with him, and then suggested the three of us do a hike together.
It sounded like fun. But the weather precipitated a date change, and Smith was unable to come. Garrison then suggested the two of us hike up the Mount Roberts, located on the 5,400 acre Castle in the Clouds property owned by the Lakes Region Conservation Trust. Garrison is one of the volunteers that help maintain the trails and signage on the property.
On a beautiful Wednesday morning, I met him at the hiker parking lot across from the bottling plant, located at the top of Ossipee Park Road off Route 171. He was tall, mustached, with a receding hairline and had a dynamic and friendly manner. We started walking up the road to the trailhead, sharing our experiences hiking and climbing in mountains here and abroad.
As we headed up the old carriage road at the start of the trail, the subject changed to his map. It went without saying that I needed to be impartial in writing about matters concerning the map and the Ossipee Range. Garrison indicated that he wanted the whole matter to settle down and take its course. When asked, he affirmed twice in our conversation that he regretted having contributed to the closing of land, and hoped that would resolve itself in the not too distant future.
But I wanted to find out more about him. Who was the Trail Bandit, and how did he get here?
He was born in New York City 67 years ago, but says he didn't stay there long. He graduated from high school in Andover, Mass. and went on to Worcester Polytech, where he majored in physics.
"Then I went to graduate school at UNH for a while," he said, "but I didn't like it, so I quit and went to work"
He got a job in development at Avco Missile Systems. Reasserting his independence again, he left and moved to Henniker 37 years ago, and established himself in business fashioning custom electric power supplies. He did some work for Sylvania, work which was continued later by others in an experiment on the space shuttle. He has since retired.
An avid outdoor person, he learned to technical climb in the White Mountains, and has explored and climbed in the Himalayas and South America. He owns two small planes, has piloted them to Alaska and the Virgin Islands, and is half owner of the Intervale Airport in Henniker. He had actually gotten the idea for a map of the Ossipee Mountains while flying over the range, and later did aerial photography there for the map.
In 1965, he went to the Virgin Islands for the first time, and has gone back many times since. In the 1980's, he did some trail work within the national park without formal permission.
"There are many old Danish roads there," he said. "Back in the 1960's, people were still driving on some of them. When the park service came, long time residents were evicted, and the roads eventually grew in. Many of these old roads were on the park service map as dotted lines. I opened up some of these. If I had asked permission, it never would have happened. I also made a map of trails on the island, and suggested the park service sell it because it was much better than their old one, but without success. When a new supervisor came on board, my map was adopted with some changes."
We reached the short spur trail to the first lookout on the Mount Roberts Trail. The air was hazy, unlike many days this fall, and we didn't linger to look out over Lake Winnipesaukee, but headed up the trail through the beautiful oak forests towards the first open ledges. Our discussion continued. I asked him where he got the name Trail Bandit (he actually has a Website concerning his efforts in the Virgin Islands, at www.trailbandit.org).
"I remember looking at an old AMC Outdoors magazine that had an article decrying the opening of old trails," he said. "They used the term trail bandit for those who did. I liked it, and adopted it."
I asked him to elaborate a little on his trail philosophy.
"Trails are an important heritage, and they should be maintained. Landowners should be stewards of these trails or pass the stewardship on to others. However, new trails should not be built without landowner permission. In the Virgin Islands, I reopened old trails, I didn't build new ones."
Long before finishing his map of the Ossipee Range, Garrison cleared an old trail in that range called the Banana Trail without permission of the landowner. Asked if he would have done this and also made his map of the Ossipee Mountains without his previous experience in the Virgin Islands, he said no.
I was hiking with someone who was an exceptionally self motivated proponent of hiker access, and also a bit of  an outlaw. I liked him. I also couldn't relate totally to his left brained technical approach. Talking about various northeast mountains, I mentioned a choreographed dance performance that takes place on the summit of Mount Monadnock almost every year in the early fall, and he wasn't about to acknowledge it in any way.
We reached the beautiful ledges on the Mount Roberts Trail, and looked back through the haze over the lake. Then we entered the forest for the last leg to the summit. In quick time, we reached the old carriage road that circles around the summit and took a right on it to the actual summit ledge and cairn, where an attractive metal sign has been recently been planted. We caught a bite before heading down.
"There's Black Snout," said the Bandit, pointing to a handsome lower peak in the range to the north, which he had bushwhacked to while exploring for his map. We looked around at the nearby peaks and valleys, knowing that most of the land we saw was private, yet much of it was being preserved to be appreciated by society as a whole.
[Photo by Ed Parsons]