Ossipee — November 1, 2009 — A year ago, today (Oct. 29), a fire ripped through the Kranky Franky's building on Route 16. Now, a reincarnation of the original restaurant located here in the 1930s is weeks away from opening. The new restaurant will be called the Sunny Villa, said owners Frank and Jill Bumbaca and Tim Carnes.
The building housed the popular Sunny Villa Restaurant back in the 1930s, and before the fire, that was name of the building's ice cream shop. Bumbaca and Carnes plan to open a section of the building that will seat 99 people. They declined to give an exact opening date but did say it could be a matter of weeks. The Bumbacas and Carnes and his parents purchased the building together in 1999.
"I need to get back to work to make some money," said Bumbaca. "It's been a long har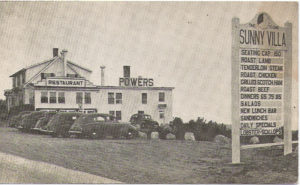 d road (but now) we're close."
Sunny Villa, left, seen in a postcard from the 1930s. [Alliance Collection]

Ninety-nine seats is just the beginning. The Sunny Villa will expand once it can get a sprinkler system installed, the owners said. The building could seat far more than 99 people.
Before the fire, the building also housed Granite Fitness, Twisted Scissors hair salon, Curves, and an apartment. Faulty wiring caused the fire.
Over the last year, they have gutted and reframed the building. New wiring and plumbing was also installed. Foam insulation will make the building environmentally friendly and energy efficient. A heated walkway has been installed so customers won't have a hard time getting in when it's snowy, said Bumbaca and Carnes.
"That's what took us so long, we needed to get everything up to code," said Carnes.
Once open, the new Sunny Villa will serve home-style meals such as steak, fish, burgers, pizza, and calzones. Meals will come at different sizes and prices so people can find something to fit their appetites and budget said Bumbaca and Carnes. The Sunny Villa will stay open until around 11:30 p.m. for hungry night owls, they said.
In the beginning, family members will staff the Sunny Villa, said Carnes. However, they do plan to hire 25 to 30 employees in the future. Job seekers can get an application at the restaurant.
"We want happy, motivated people," said Carnes.