Ossipee — March 4, 2010 — Roland Harry Libby, 79, of Water Village, passed away peacefully, Tuesday, March 2, 2010 at his home. A native of Ossipee, Harry was born October 11, 1930, the son of the late Robert and Helen (Eldridge) Libby and had lived in Ossipee for most of his life.
Roland was a Veteran of the US Air Force serving as Staff Sergeant from 1950 to 1954, during the Korean Conflict. He had worked for Cy Moody as a laborer for several years. After his retirement he worked for the New Hampshire Department of Forests and Lands.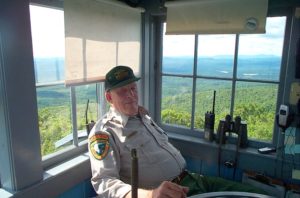 Roland took great pride and enjoyment serving as a Watchman for the Green Mountain Fire Tower for several years. Roland also served as Fire Warden in Ossipee Corner and as a Deputy Fire Chief of the Ossipee Corner Fire Department.
Roland was an active member of the Tuftonboro United Methodist Church. He is survived by his wife of 58 years, Frances "Dee Dee" (Estes) Libby, of Water Village, two daughters Cynthia Morrill, Hutchinson, Kan., Debbie Bolobanic, Rochester, and a son Alan Libby, Effingham, 11 grandchildren and 14 great grandchildren.
Roland is also survived by a brother, John Libby, Ossipee; and two sisters, Annie Jacobsen, Ossipee, and Thurley Litwhiler, Vestil, N.Y. Roland will also be greatly missed by Michael Bedley, a grandson who was raised by his loving grandparents.
Calling hours will be Saturday, March 6, 2010, from 6-8 p.m. at Lord Funeral Home, Wolfeboro. Funeral services will be Sunday, March 7, 2010 at 1 p.m. in the Tuftonboro United Methodist Church, Pastor Murray Nickerson, Jr. and Pastor Bill Hartford will  officiate.
Burial will be in the Water Village Cemetery, Water Village, later in the spring. Donations in his memory may be made to the Tuftonboro United Methodist Church or the Ossipee Corner Fire Department.
[Alliance Editor's Note: Harry Libby was profiled in the Autumn 2006 issue of Ossipee Lake Report. Access the issue by clicking here].