Moultonborough — April 17, 2010 — Snow fell on blooming flowers in parts of the state Friday, with some areas getting as much as 2 inches of snow.
Rain and snow will continue through Saturday. The reminder of winter coming in the middle of April was tough for some residents to swallow.
"Well, I'm getting kind of sick of it right now," said Al Hayward, of Freedom, N.H. "We had it all morning, and I think that's enough."
"Oh my God. I hate the snow," said Joslynn Bunnell, of Ossipee, N.H. "It's horrible. I want it to go away."
But some took it more in stride.
"I don't mind it," said Dana Merrow, of Ossipee. "I've been here quite a while."
The snow arrived just in time for the last weekend of skiing at Wildcat Mountain.
"The cover's pretty good, and there's about 4 inches of new snow at the summit today," said Tom Caughey of Wildcat Mountain.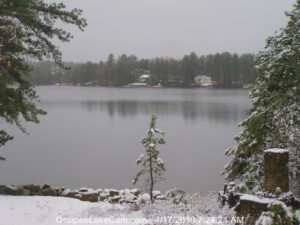 [Photo from Ossipee Lake Webcam]
A few days ago, temperatures were in the 70s. In Conway, the Highway Department already started taking the snowplows of its trucks, but road conditions didn't get bad.
"We could get by if we had to," said Tim Shackford of the Highway Department. "Hopefully, it just stays rain."
More snow is possible in the mountains over the weekend. By Monday and Tuesday, temperatures should be back in the 50s.
[Have pictures of the snow? Post them on the Alliance's Facebook page]