Freedom — June 29, 2010 — There are baby loons on Berry Bay, and boaters are being asked to use special caution and keep their distance as the chicks get acclimated to their new environment – especially this holiday weekend when boat traffic will be at a peak.
A "once in a lifetime experience," is how one observer described spotting the loon family; and it's an observation echoed by John Cooley, Senior Biologist of the Loon Preservation Committee in Moultonborough.
"This is the first documented incidence of loons being born on Ossipee Lake since we started keeping records in the late 1970s," Cooley said by phone. "There have been nesting pairs on the lake over the years and chicks may have been produced, but this is the first recorded incidence."
The baby chicks were first reported by Leavitt Bay resident Cathie Bowen on June 22. In a posting on Ossipee Lake Alliance's Facebook page, Bowen said she sighted the chicks riding on their mother's back on Sunday the 20th and saw them again on Tuesday "out for a spin" on the east side of Leavitt Bay.
Loon Committee biologist Cooley confirmed the loon family seen on Berry Bay is the same family Bowen saw on Leavitt Bay. He said loons typically leave their nesting site after a period of time and transition to a new location to raise their chicks as part of a strategy to keep predators confused.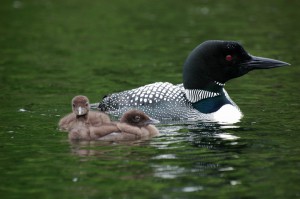 Leavitt Bay has had nesting loons each spring for a number of years, but the location of the nest proved vulnerable to boat waves and human disturbance until this year.
Last weekend, kayakers and canoeists spotted the loons on Berry Bay and waved away power boat operators who were recreating in the area. Those who have seen the small brown chicks say they are are hard to spot on the water if they're separated from their parents.
Keeping a safe distance, professional photographer Joe Stark captured the photo on this page with a long lens.
Ossipee Lake Alliance will host a presentation called "Freedom's Common Loons: Life in the Wild on Local Lakes" on Tuesday, August 3, at 7:30 p.m. under the big tent at Camp Calumet.  The event, part of Freedom Old Home Week, is free and open to all.