Eaton — April 21, 2011 — It's been a big year for the Upper Saco Valley Land Trust, and the non-profit conservation organization last month celebrated its biggest achievement to date. "We just signed off in March on our Foss Mountain project in Eaton," said land trust president Tom Earle of South Conway.
The land trust successfully waged a year-long campaign to raise funds to acquire the 99-acre tract, located adjacent to the town of Eaton's 341-acre conservation lands, long renowned for its blueberry fields and 360-degree views.
"We essentially protected the ridge of Foss Mountain," said Earle, a South Conway farmer and former member of the Conway Conservation Commission.
He said that in May 2009, the town of Eaton's board of selectmen and conservation commission requested the land trust's help to purchase and preserve the privately-held tract. The purchase price was $320,000 but the fund-raising goal was $350,00 to cover the purchase and related transaction costs.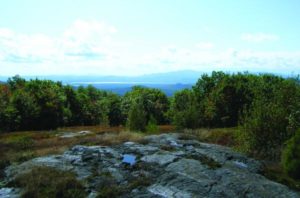 Funding for the project included a $100,000 grant from the state of New Hampshire through its Land and Community Heritage Investment Program (LCHIP); $50,000 by warrant article from the Town of Eaton; $60,000 from two anonymous foundations; $20,000 from the Virginia Wellington Cabot Foundation; $10,000 from the Davis Conservation Foundation; $5,000 from the Kendal C. and Anna Ham Charitable Foundation; $5,000 from the Fields Pond Foundation; and more than $113,000 in individual contributions.
On March 1, the land trust transferred ownership of the 99-acre property to the town of Eaton. The property will be managed by the Eaton Conservation Commission and protected in perpetuity by a conservation easement held by the Upper Saco Valley Land Trust.
Selectmen expressed their support by issuing the following statement:
"When Madison split from Eaton in 1852, they left the real jewel behind and this town has enjoyed it ever since. Foss Mountain is a unique area with magnificent vistas in all directions. It is important that the mountain be kept undeveloped and open to the public for future generations to enjoy."
As anyone who has ever walked across the fields to make the gentle family climb up Foss Mountain can appreciate, the Foss tract is a gem.
"Because it is in the foothills, you get a view north to the mountains, and to the south you see all of the Ossipees and the Lakes. It's amazing — I call it the best view in the White Mountains," said Earle.
The Foss project is part of  the land trust's overall goal of "preserving the ecological systems and cultural values of the Upper Saco River Valley." Formed in 2001, the trust serves northern Carroll County in New Hampshire and western Oxford County in Maine, including the communities of Bartlett, Hart's Location, Jackson, Conway, Albany, Madison, Eaton, Chatham in New Hampshire, and Fryeburg, Brownfield and Denmark in Maine.
To date, according to Earle, the Upper Saco Valley Land Trust has acquired 33 conservation easements and four lands in fee, "permanently protecting 4,426 acres from development."
"I think when we began we had no idea that within 10 years, we would hold or be protecting through easements this much land. But it was obvious that there was a great demand in our area for this service," said Earle.
He said the trust has been "at the receiving end of all of this pent-up interest" because previously there was no land trust in the area.
"There were a lot of people who wanted to protect their land but didn't know how to go about doing it," he said.
The group on its website, www.usvlt.org, says its mission is to "provide for the continued well-being and availability of land for farming, forestry, recreation, and education, as well as for land remaining in its natural state, benefiting natural and human communities."
"We seek to achieve our mission through the forging and fostering of partnerships for land conservation, and through respectful stewardship, while being mindful of our heritage, our place, and our vision and responsibility for the future," says the group on the website.
Earle said the land trust protects land primarily through the use of conservation easements — legal documents which allow a property owner to restrict the type and amount of development that may take place on his or her property. Each easement's restrictions, he said, are tailored to the particular property and the interests of the individual landowner. People grant conservation easements to protect their property from development while retaining private ownership. The easement ensures that the land will be protected no matter who future owners may be. Income tax and estate planning benefits may be realized in many cases.
According to the website, a property owner having his or her property in current use assessment levels in New Hampshire or tree growth in Maine would "pay the same property tax amounts." While some may argue that putting land in conservation is bad for the economy, Earle says to the contrary.
"Studies have been done which show in every part of the country but especially here in New England putting land in conservation is good for the bottom line. It brings in revenue with very few costs to the town. When you develop land, you also accrue large costs in terms of services the town has to offer. So a percentage of conservation land is good not just for that reason but it's good for every town to have some conservation land," said Earle.
Earle said the land trust is currently involved in the first phase of a natural resource inventory of the 11 towns it serves. "It identifies all the natural resources in the project area, starting with water and working to forests, community types and geology," said Earle, noting that the land trust obtained $30,000 in grant funding and hired two professional consultants to conduct the study. "After we complete phase 1," said Earle, "we will use it as a base tool for phase 2 of our strategic conservation plan, in which we plan to have conversations with communities in our project areas to find out what their conservation goals are."
The conservation commissions for the towns of Bartlett and Conway in New Hampshire and Denmark in Maine have partnered with the land trust so far, according to Earle.
"We have kept them up to date and they have contributed to the project," said Earle, who added that in the next two years, the trust will hire a facilitator to have those conversations with the towns on conservation — a conservation conversation planner, if you will.
He said the Upper Saco Valley Land Trust is staffed by two employees who serve the group's 15-member volunteer board of directors. The organization's office is located upstairs at the Shops at Norcross Circle in North Conway. For more information, call 356-9683 or visit www.usvlt.org.
The land trust is currently featuring through May 18 its second annual "Art Celebrates Place" show at Tin Mountain Conservation Center's Nature Center on Bald Hill Road in Albany, featuring paintings, prints and mosaics inspired by USVLT easements from Jackson to Albany. For further information, call 447-6991.