Ossipee—February 18, 2013—With snow still falling it's hard to believe it's time for the start of the Ossipee Lake Ice-Out Contest. The contest, sponsored by the Ossipee Recreation Department and New England Rod and Reel, is an annual event in which entrants guess the precise time at which Ossipee Lake is ruled to be ice-free. The winner receives a new fishing rod and reel.
Last year's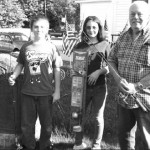 official ice-out was at 4 p.m. on March 24. That was the earliest date in 17 years, according to Broad Bay's Bob Smart. Smart says that despite last year's early date, in most years there is ice on Ossipee Lake through much of April.
[Billy Morse, left, Katelyn Brownell and Allan Riley were the winners of last year's Ossipee Lake "Ice-Out"Contest]
To enter this year's contest, send your guess—the date and time to the nearest half-hour—with your name, mailing address, phone number, and age division. Age divisions are: Division 1, ages 5-12; Division 2, ages 13-18; and Division 3, adults age19 and older. Only one entry is permitted per person, and all entries must be submitted or postmarked by 5 p.m. on Friday, March 15, at the Ossipee Recreation Department office.
Mail them to: Ossipee Lake "Ice-Out" Contest, Ossipee Recreation Department, P.O. Box 67, Center Ossipee, NH 03814.You may also fax them to (603) 539-4183, email them to ossrec@gmail.com, or drop them off at the department office at 55R Main St. in Center Ossipee. Entry blanks are available at various locations in Ossipee and Effingham, and on the department's website at www.ossipeerec.org.
Portions of this article courtesy of the Carroll County Independent.