Freedom—August 12, 2013—Ossipee Lake's milfoil infestations are smaller than they were last year. That's the conclusion of a survey made on August 5th by the N. H. Department of Environmental Services.
The survey, which is conducted annually, was led by Amy Smagula, coordinator of the state's Exotic Species Program. Smagula attributed the improvement to control actions that were taken last fall and this spring. The following summarizes this year's survey report:
• Mouth of Pine River: Observers found just a couple of small milfoil plants. Dive activities appear to have removed most of the infestation. Diver work this month and in September should take care of the small amount remaining.
• Causeway Cove: This area looks good, with nothing in main cove. But there is a patch of several stems of milfoil in the lily beds in the south end of the cove, just inside the outside edge of lilies. A dive this fall should suffice to remove them.
• Southern Cove of Broad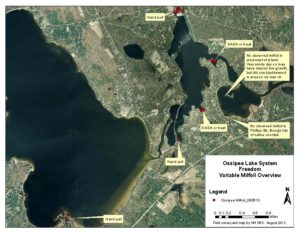 Bay: There is patchy milfoil at the southern tip of cove, but it is better than in past years. This can be a small treatment area to really get at it, or a good DASH site.
• Portsmouth Cove: This is a recurring issue, and DES has recommended a small treatment area at the site this year.
• West of Leavitt Bay Island: There was no milfoil found there—just abundant bladderwort, which is native. There have been reports from local residents that there is also milfoil at the site, but state observers were not able to spot any.
• Phillips Brook: There was no milfoil in brook, just a lot of coontail that is native but looks like milfoil.
• Ossipee Lake Marina: Patchy milfoil was found around a few of the slips, which can be harvested by a diver.
• Danforth Brook (river connecting Broad Bay to Lower Danforth Pond): Small patches of milfoil were found in shallow water, and can be removed by wading or very shallow diving/floating.
Smagula recommended treatments for two small areas in the southern cove of Broad Bay and Portsmouth Cove, which could be conducted on the same day as the Danforth Pond treatment, since contractors will be in the area. She also requested that someone survey the area west of the island in Leavitt Bay on a calm day to confirm the absence or absence of milfoil infestations. Her observations were made on a windy day, she noted.