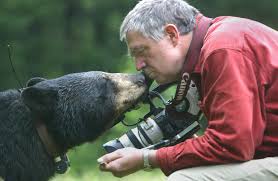 Freedom—July 25, 2014—Ossipee Lake Alliance will present popular author and bear expert Ben Kilham at Freedom Town Hall on Monday, August 4. The event will begin at 7:00 p.m. and is part of Freedom Old Home Week.
Kilham has observed and documented the behaviors of black bears for more than 20 years, educating the public through books and presentations, and illustrating how bears have emotions similar to humans. His book "Among the Bears: Raising Orphaned Cubs in the Wild" is considered a classic of its type. Signed copies will be available for purchase at the event, along with his new book, "Out on a Limb."
This free event will be a presentation suitable for the entire family, as he describes his adventures in the forest with these large, furry creatures. His spellbinding stories describe the life of mother bears and how they bring up their cubs, and how bears react to people and changes in the environment.
All are welcome, so mark your calendar for Monday evening, August 4th, at 7 p.m. at Freedom Town Hall. Look for information about this and other Old Home Week events at www.freedomoldhomeweek.org. Information about Ben Kilham is at www.benkilham.com, and information about Ossipee Lake Alliance may be found at www.ossipeelake.com.