Freedom–March 5, 2015–It has been almost nine weeks since my last report that detailed the warm weather, snowmelt and high lake level of December 2014. Everything changed in January, and we have experienced real winter weather the way the "old timers" remember it. Church services were canceled in early January and two Sundays in a row in early February because of snow.
We did not get as much snow as did the southern part of the state, but we have more than we need. The town was in last Monday with a big front-end loader and opened up all of the driveways and mailboxes so there will be enough room for the next storm.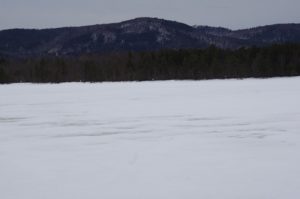 The lake has been frozen over shore to shore since the first of the year. Snow depth on the level is at least 24″ with little or no melt since December. We have a very large inventory of snow to more than fill the lake if snow melt comes all in one week.  The level today is being reported as 404′ but may be lower. The state gauge hangs up at the 404′ level and there is no reporting below that level.
However…these cold and snow conditions are almost the same as last year. They were followed by warm weather and some rain the end of March. Frost was in the ground so all melt ran off and the lake level reached 411′ on 4/17. That is a rise of 7′ in about two weeks. The official "ice out" was 4/22/14.
The long-range weather forecast for the rest of this week is for highs of below freezing. The prediction for next week is for high 30s and up near 50 on some days.  Will winter weather be gone by the end of March?
By the way, the Ossipee ice out has been on 4/23/08, 4/13/09, 3/25/10, 4/20/11, 3/24/12, 4/14/13, and 4/22/14.
Bob Smart