Ossipee—July 20—2016—A discussion by the Ossipee Planning Board about a major expansion of Westward Shores Cottages and RV Resort on Ossipee Lake has been continued until Aug. 2 so board members and the applicant can study a recently released report by independent engineers hired by the town. Meanwhile, local residents remain concerned.
Located at 110 Nichols Road in West Ossipee, Westward Shores is seeking approval to add 246 new RV sites to its existing 258 campsites. The entire parcel is about 300 acres, with 45 acres to be placed in conservation.
At Tuesday's planning board meeting, project engineer Dan Flores of SFC Engineering Partnership in Auburn said construction would be done in phases, with the first phase expected to begin next year and the project continuing through 2020. At their last meeting on July 5, the planning board awarded a bid to Jones & Beach Engineers of Stratham. Board members said the proposed project is so large the town needed outside compliance assistance. On Tuesday, board members said that they had received the Jones & Beach report only hours before the meeting and needed time to digest it.
"We really haven't had a chance to review it for ourselves," board member Rick St. Jean said. "Jones & Beach should be here to present it because they are the engineers, and I really can't answer any of the questions or issues."
The rest of the board agreed that SFC and Jones & Beach should discuss the report together prior to its next meeting. The Jones & Beach report, which is public, is six pages long and contains 46 numbered points of concern. For instance, the engineers, like members of the public, were concerned that the whole campground is in the 100-year flood zone.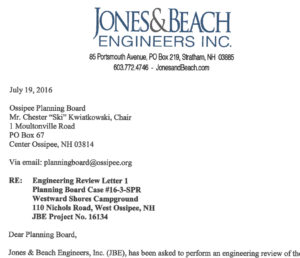 They also noted that the access road might be too narrow for fire trucks. A more minor concern was a request for arrows on a map to indicate the downstream direction of the Bearcamp River. Several points had to do with the septic system. Jones & Beach also said it would be "unreasonable" to require tenants to remove their units from the campsite in inclement weather as part of an evacuation plan.
One prime topic of discussion was that Westward Shores had not clearly stated campers would not be allowed to have accessory sheds when at the previous meeting the owners gave planning board members the impression they would not allow sheds.
"If they are camping, why would they need a shed?" asked board member Roy Barron. "I have a problem with this."
Barron worried that the sheds, storing things like oil or gasoline, could wash into the lake during a flood. Board Chairman Chester Kwiatkowski brought up a paragraph in Westward Shores' literature saying accessory structures like sheds would not be permitted without the blessing of the management.
"I understood they were not to be permitted at all," he said.
Flores of SFC Engineering said the intent was for the campground not to allow more sheds than are grandfathered now.
Freedom resident Ed Green told the board he's heard from former Westward Shores campers who said they left because of constant and unpredictable flooding. He said Westward Shores' own literature says that in the event of severe weather, campers would be responsible for moving their property and capping their septic systems.
"They (former campers) were telling me that they'd get pounded on the door in the middle of the night and told 'You better drag your camper off this site,'" said Green. "What I'm concerned about primarily is water quality and the future of Ossipee Lake. Building in the flood plain is threatening an awful lot of people."
Freedom resident Tom Wilkinson said six rivers flow into Ossipee Lake and one flows out. He said campers might get little warning before a flood.
"There's no way you are moving 200 or 300 trailers," said Wilkinson. "It's not going to happen."
Wilkinson joked that he's gotten some "free docks" and boats when flood waters carry those items onto his property. "People do not understand the severity of the flooding on this lake," he said.
Campground Manager TJ Lawrence said he was not aware of structures from the campground "floating away" during a flood. Green, of Freedom, said items have been displaced after a flood. He also said the evacuation plan had better be good because a flood can cause a "chaotic scene."
Board member St. Jean said Green and conservation groups were "fear-mongering" and said Green's description of access roads being 8 feet wide was inaccurate. Green replied that St. Jean was making him out to be a "villain."
In response to concerns that the lake could be contaminated by flood waters if campers don't manually close their septic caps in time, Gillette said Westward Shores could install self-closing caps, which he described as reasonably priced at $88 apiece.