Ossipee — June 9, 2017 — The planning board is to hold another public hearing on the Westward Shores' campground expansion plans. This comes after Effingham selectmen complained they weren't notified of the previous hearing.
The upcoming public hearing will be held Tuesday, June 13, at the Ossipee Freight House at 7 p.m.
Last month, the case came back before the board on remand from Carroll County Superior Court due to a legal challenge by Freedom, which charged Ossipee with denying the Freedom's appeal of the Ossipee Planning Board's approval of Westward Shores without holding a public hearing first.
Located at 110 Nichols Road in West Ossipee, Westward Shores has been seeking to add 261 new RV sites to 258 existing campsites. The parcel totals 308 acres; however, 45 acres will be under conservation.
Westward Shores is owned by Grand Rapids, Mich.-based Northgate Resorts through Northgate Ossipee LLC, which is owned and operated by the Bossenbroek family. Freedom, which abuts Ossipee Lake, is concerned that the project could contaminate the lake. The planning board approved the expansion last September, but Freedom said Westward Shores' proposal didn't meet Ossipee's own zoning requirements and asked the zoning board to consider an appeal.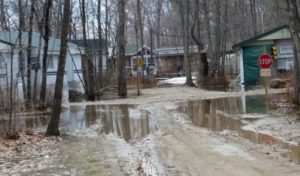 Freedom convinced Carroll County Superior Court Judge Amy Ignatius to order Ossipee Zoning Board to hold a public hearing on proposed expansion and Ossipee Zoning Board did so in May. However, Effingham selectmen then said that they were not properly notified and should have been because they had abutter status.
Since then, Effingham selectmen received a correspondence from Ossipee saying there will be a public hearing on June 13.
"They officially notified us," said Effingham's Selectmen's chair Henry Spencer on Tuesday.
The June 13 meeting is posted on the town of Ossipee's website. It does not mention Effingham by name.
"In accordance with NH Revised Statutes Annotated (RSA) 676:7 (I), the Town of Ossipee is required to notify all abutters to land intended for (Special Exception/ Variance/Administrative Appeal/Motion for Rehearing) be notified of the following proposal," states the posting. "You are hereby notified that Carroll County Superior Court issued a Court Order for a Motion to remand to the Ossipee Zoning Board of Adjustments to hold a Public Hearing on the case listed below: Town of Freedom vs. Town of Ossipee – per RSA 676:5 III "Appeals to the Board of Adjustment" had previously filed a request challenging the decision rendered by the ZBA on 10/08/2016, for an Administrative Appeal of the Planning Board's Site Plan Review approval for Case No. 16-3-SPR — Northgate Ossipee, LLC for Westward Shores Campground and Resort on 9/20/2016."
Following the court-ordered public hearing in May, the zoning board unanimously decided not to send the case back to the planning board for reconsideration.
Freedom Town Administrator Karen Hatch said as of Tuesday afternoon negotiations between Freedom selectmen and Northgate were still pending.