Freedom—June 2, 2017—Are you going to be on the lake this summer? Looking forward to swimming and paddling around the bays, rivers and streams in a kayak or canoe? Great! You're ready to be a Weed Watcher.
As a Weed Watcher you'll do everything you're already planning to do, but you'll also be able to tell whether those water weeds you're looking at are the harmless native variety or damaging invasives. Your early detection is critical to keeping weeds from spreading out of control and helps limit cleanup costs.
On Saturda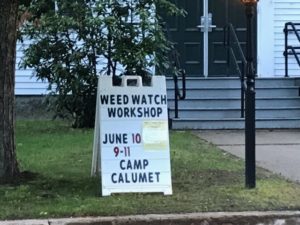 y, June 10, Amy Smagula from NHDES will teach you what to look for and what to do when you think you've found something. Join us for coffee at 9 a.m. and stay for her presentation at Calumet Conference Center in Freedom. Also on hand will be Jim McElroy, Chair of the Freedom Aquatic Invasive Species Committee, who will pinpoint where the infestations are on the lake and discuss this year's control plan.
Being a Weed Watcher is important and it's easy. Let us show you what to look for on Saturday June 10. Questions? Call Susan Marks at (914) 588-3280.