Freedom—July 3, 2017—Effingham-based Green Mountain Conservation Group (GMCG) this month said it plans to use a state grant to help it create a multi-town committee focused on protecting the Ossipee Aquifer, the region's primary source of drinking water.
How such a committee will be established and managed will be discussed at a "Groundwater Protection Ice Cream Social" at Freedom Town Hall on Monday, July 17, at 6:30 p.m. All interested residents and businesses are invited.
In a news release, the conservation group said its model for the plan is the Barnes Aquifer Protection Advisory Committee (BAPAC), a Western Massachusetts coalition comprised of the Pioneer Valley Planning Commission and the towns of Easthampton, Holyoke, Southampton, and Westfield.
BAPAC plays a public awareness and education role in its region in regard to groundwater protection, and provides guidance to town leaders and citizen groups on mitigating threats to the aquifer posed by development and population growth.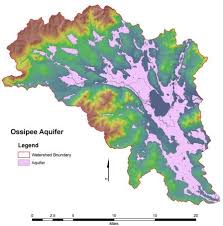 Since its founding 20 years ago, GMCG has taken a regional approach to addressing environmental issues. That includes creating awareness of the importance the Ossipee Aquifer in providing drinking water to Ossipee, Sandwich, Tamworth, Madison, Effingham, and Freedom.
The move to create an Aquifer Advisory Committee comes on the heels of Ossipee's approval of two controversial business developments. The proposed expansion of Westward Shores Camping Resort and a proposed gas station-convenience store complex in West Ossipee have both drawn opposition largely because of perceived threats to the aquifer.
Westward Shores, where new owners hope to double RV and camper capacity, is on the Ossipee Lake floodplain, which is regulated by the Ossipee Floodplain Zoning Ordinance. The West Ossipee gas station complex is in Ossipee's Groundwater Protection District, an area defined in town zoning that has more stringent restrictions on development because of its proximity to the aquifer.
Underscoring the fact that groundwater doesn't recognize town boundaries, the Westward Shores expansion was ruled to have regional impact, which qualified Freedom and Effingham as abutters. Both towns publicly opposed the expansion as a violation of the floodplain ordinance, but Ossipee officials approved it. Freedom sued the town over the decision, and the case is ongoing in state court.
In regard to the gas station development, Ossipee officials denied neighboring towns a voice in the matter by ruling that the 5,000 square foot convenience store and eight-pump gas facility would not have regional impact. After a series of stormy public hearings, Ossipee approved the development despite the town's prohibition against gas stations in the Water Protection District, and testimony by a noted geologist who called the plan "reckless." The appeal period in the matter expires on July 7.
For additional information on the Aquifer Advisory Committee or the July 17 meeting, call (603) 539-1859 or contact education@gmcg.org.