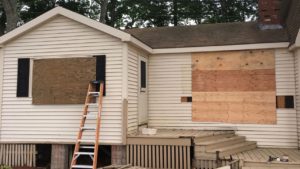 Report and photos from WMUR-TV news reporter Kristen Karosa
Ossipee—July 11, 2017—A stolen boat was crashed into a home in Ossipee overnight, and police said they're searching for the thief.
Witnesses said the boat was speeding on Ossipee Lake moments before tearing across a beach and crashing into the house. The person inside the home wasn't hurt.
"It started doing big, aggressive turns in the center of the lake, really erratic," witness Debbie Hinrichs said. "I was wondering if it was having boat trouble."
Hinrichs said she watched the boat continue to speed across Ossipee Lake.
"I heard the sound a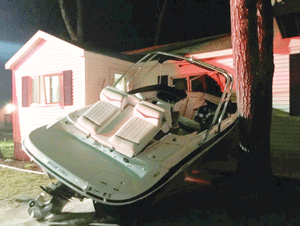 nd I thought that it just grounded," she said. "They never stopped."
Marine Patrol officials said the 22-foot boat hit land, traveled over the beach and a road and slammed into the downstairs bedroom of the home on Deer Cove Road. No one was in the room damaged by the boat.
"It doesn't even look like the boat touched the sand," homeowner Christopher Swansburg said. "They probably just hit the beach and hopped up. I'm guessing they were going 40-50 mph maybe."
Swansburg was asleep upstairs at the time of the crash.
"I felt the house shake, and then I ran outside," he said. "I could hear the engine of the boat still running and revving. There was smoke coming out of the engine."
Swansburg said he worried that the driver of the boat was hurt, but no one was behind the wheel. Officers said the boat was stolen from nearby Bluffs Beach. Crews searched the water but didn't find anyone.
"I just don't know what some people are thinking and why they do the things that they do," Swansburg said.
The boat was towed to Gilford to be examined.
Anyone with information is asked to call police.