Freedom—July 31, 2018—Without the Ossipee River Dam there would be no Ossipee Lake. That means any discussion about flood safety and the economic and recreational well-being of our area is ultimately grounded in how the dam is funded and managed.
A significant upgrade of the dam planned for next year will be the focus of a public meeting hosted by Ossipee Lake Alliance at 10 a.m. on Saturday August 25 in Freedom Town Hall. The speaker will be Jim Gallagher, Chief Engineer of the N.H. Department of Environmental Services.
This long-awaited improvement project involves replacing the aging structure on the north side of the river, often called the Freedom Dam or the Berry Bay Dam, with a new reinforced concrete dam.
The new dam will incorporate modern safety technology with the installation of two remote-controlled crest gates, each approximately 40 feet long and spanning the river, which divides Freedom and Effingham.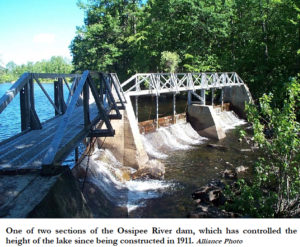 The construction project is fully funded by DES, which oversees 2,600 dams, of which 278 are owned by the state.
Freedom, Effingham and Ossipee residents and lake and river property owners are encouraged to attend to hear about the scope of the project, including how water levels will be affected during construction.
The Ossipee River Dam has a colorful history, much of which has been written about in articles published by the Alliance. In the coming weeks we will be republishing some of them to provide context for the new project.
In the meantime, hold the date: Saturday, August 25, 10 a.m. at Freedom Town Hall. Coffee and snacks at 9:30 on a first come, first served basis.