Tamworth—March 11, 2019—When I first saw a snow goose winging overhead in Center Sandwich, I was surprised. I had no idea they commonly move through N.H. from March on while we still have snow on the ground. They will be breeding in their Canadian Arctic tundra soon after completing this seasonal journey through our area. They might be seen anywhere from Winnipesauke to Walpole and Concord.
Snow geese fly higher than others during migration—up to 1,000 feet—but not in a "V" formation either. The flocks usually fly in a "U" shape instead, not using the familiar wedge that Canada's do. Sometimes these flocks are in the hundreds, or even several hundred thousand. They like each other's company and are rarely seen alone. Their noisy call is a high-pitched "yelp."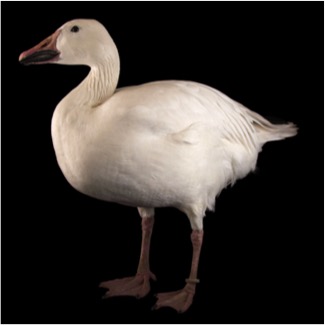 Snow geese earn their name. They are all white except for their black wing tips, which are most noticeable in flight. Their bills are pink with black "lips", lined with a black "grin" patch. There is a dark form which was formerly called a blue goose, but now it seems the present term for this species includes three former separate types. The blue morph is now clumped with the lesser snow goose, which winters in California and the Gulf States.
We have the greater snow goose, which winters along the East Coast. You won't see any during summers, but when they come back, the birds will be sighted October through late November in the state. They forage in wide-open spaces such as cultivated fields and shallow wetlands then. Snow geese have benefited from agricultural fields, which is one reason they are so numerous.
Hunters use ATVs to get out into springtime's muddy fields to distribute their decoys. And they put a lot of them out, maybe 400 or so. There are large costs in providing that many! Wind socks are the cheapest to utilize vs. full body decoys. They are also easier to set up, so you and a partner can put them out in less than an hour. You can also buy snow goose recordings that are very helpful, and play them on an old MP3 player, or use a smartphone.
The spread of the decoys also needs to be well thought out, because these chunky white birds have seen it all by the time they get to you.
Dave Eastman broadcasts "Country Ecology" four times weekly over WMWV 93.5 FM. As Vice President of the Lakes Region Chapter/ASNH, he welcomes you to monthly programs at the Loon Center in Moultonborough. He is available at: cebirdman@yahoo.com (or) www.countryecology.com for consultation. This article was also published by the Conway Daily Sun.