Ossipee—July 22, 2019—Even with annual milfoil surveys conducted by boat, state officials and local Weed Watcher volunteers can miss things. Such apparently is the case with the discovery of the invasive weed deep inside the boat basin at Westward Shores Campground.

The infestation is thick and resident in several spots, suggesting it has been there for a while. It was discovered by members of the Ossipee Lake Alliance board of directors who were taking their summer intern on a boat tour of the lake.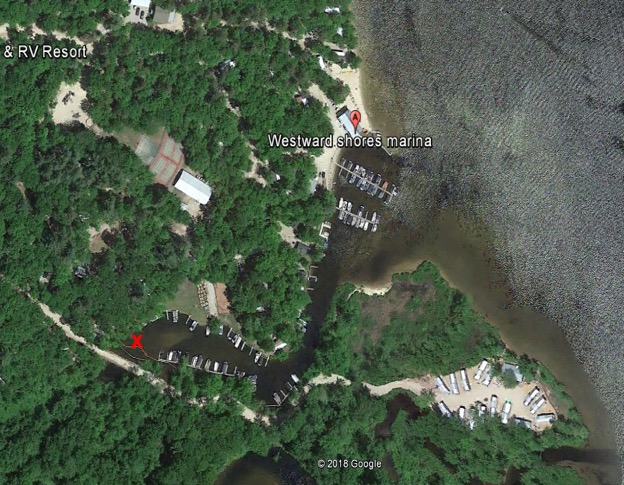 In an email, DES Exotic Species Program Coordinator Amy Smagula said the lake survey the state conduced in 2017 encompassed the big lake's nooks and crannies, and included the boat basin, which is part of the campground's marina.
But the basin extends well inland of the marina, in a kind of meandering river where dozens of boats are moored. The cove ends at the campground's road leading to what is known as the Peninsula, and that's where the milfoil was hiding.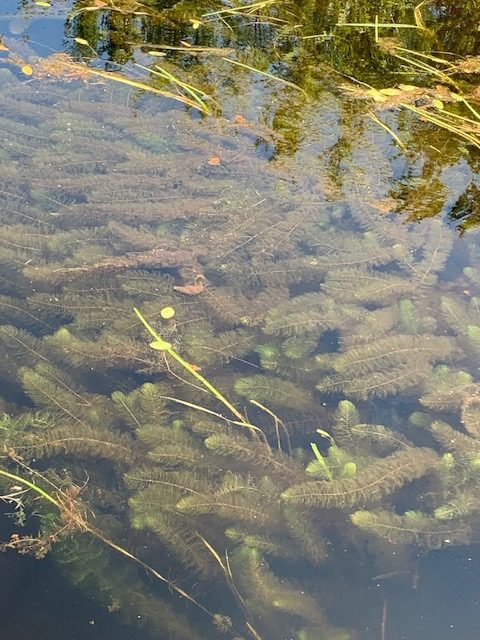 If the infestation can be pulled by professional divers, it's possible it may be removed this summer. Otherwise, control treatment will have to wait until next spring, according to Smagula.
The chance discovery is a reminder that lake residents and visitors should always be on the lookout for milfoil and keep their boats away from it. When boat propellers chop it up, tiny fragments are spread by water currents and can result in new infestations.
Pockets of milfoil are now found in all parts of the Ossipee Lake system, including Danforth Pond and the Ossipee River. Known infestations are monitored regularly, but Smagula said it's important for the public to keep an eye on the lake's small, less accessible coves and narrows that annual surveys might miss.
Milfoil and other invasive aquatic weeds are a major state environmental issue, and controlling it is expensive. In the Ossipee Lake system, close to $350,000 has been spent on control programs, of which the state has paid around 28%. All three Ossipee Lake towns work annually with the state to arrange for control efforts and determine how to fund them.
You can access the state's latest master plan for milfoil control in Ossipee Lake here. If you find suspicious weeds outside the known areas of infestation, email a picture to Amy.Smagula@des.nh.gov with a notation of the location and date found.