Ossipee—July 23, 2019—Ossipee Selectmen will be consulting with the town attorney regarding an order from the New Hampshire Department of Environmental Services to address erosion issues and sediment controls at White Pond's boat ramp.
At their last meeting, selectmen said they would do nothing, but the order says there could be civil and criminal penalties for non-compliance.
The 46-acre White Pond is located just south of the Pine River State Forest. It has a small state-owned dirt boat ramp off of White Pond Road.
The order arrived in a five-page letter signed by DES Commissioner Robert Scott dated July 8. The letter says issues with the town have been going on for years.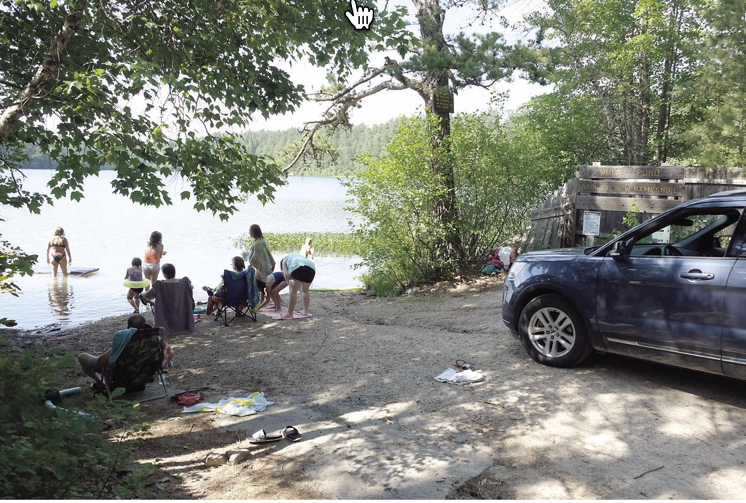 In 2017, DES complained about a trench filled with rocks near the launch and sand being placed on the launch.
At the time, selectmen refused to do a permit and then said that the responsibility to maintain the launch fell with the Fish and Game Department and work the town did there was a result of that department's "negligence."
DES continued to complain about the town's winter plowing and attempts to fix the boat launch without permits in 2018. The letter states that the town of Ossipee violated RSA 482-A:3 I by placing fill in the boat ramp without a permit and RSA 483-B:59b by constructing and/or repairing a swale next to the boat ramp.
Within 10 days of the order, Ossipee was supposed to put in temporary erosion and sediment controls. Then within 30 days they were supposed to submit a restoration plan to remove gravel on the ramp and to repair the swale. Anyone "aggrieved" by the order could appeal to the N.H. Wetlands Council.
"Please note that RSA 483-B:18, RSA 482-A:14 provide for administrative fines, civil penalties, and criminal penalties for the violations in this Order, as well as for failing to comply with the Order itself," said Scott in his order. "Ossipee remains obligated to comply with all applicable requirements, in particular RSA 483-B, RSA, 482-A, the Shoreline Protection Rules and the Wetland Rules.
"DES will continue to monitor compliance with applicable requirements and will take appropriate actions if additional violations are discovered."
At the July 15 meeting, the selectmen asked Public Works Director Brad Harriman about DES's order. He said he contacted two local surveyor companies — one was busy and the other didn't respond by the July 15 meeting.
Harriman said DES would give deadline extensions if the town were going to hire a company to help it draft the restoration plan.
"I guess it boils down to do we want to accept the resolution they came to on that or continue to fight and claim we are not responsible for that boat launch," said Harriman.
Town Administrator Ellen White said she has been trying to touch base with the town counsel, Rick Sager of Sager & Smith PLLC of Ossipee.
White added that the town has already been asked to submit an after-the-fact permit for already completed work.
"If we do further work down there without permitting, are we going to be held liable for that?" she asked, saying she was concerned about doing work there when it's unclear who is actually responsible.
Selectman Sam Martin said the issue has dragged on for years.
"This selectmen would prefer to stay with what we have been doing," she said.
White responded, "Which is nothing?"
Selectmen agreed to stay the course.
White on Thursday told the Sun that they would be talking with Sager this week.