Freedom—September 11, 2019—A study on the effects of wake boats on state lakes will kick off this month when a diverse group of stakeholders meet at the Legislative Office Building in Concord at 3 p.m. on September 23.
The group, which includes state officials, lake property owners and members of the water sports industry, was granted a one-year window to study the issue after legislative bill HB 137 was signed into law by Governor Sununu in June. 
Representative Suzanne Smith of Grafton was the primary sponsor of the bill, which garnered support from the New Hampshire Lakes Management Committee, a legislatively-created body charged with working on lake issues with DES, and the Concord-based non-profit organization NH Lakes.  
Wakeboarding is a water sport that has earned fans and made enemies alike. It requires a boat designed or modified to create a much higher and more powerful wake than the long-and-low wake associated with waterskiing. The higher wake is created by the specific design of wake boats and by taking on ballast to lower the stern and displace more water.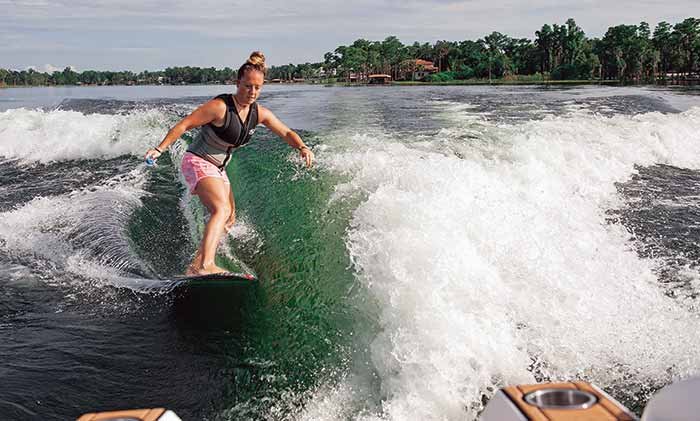 In waterskiing and wakeboarding, the objective is to stay upright while jumping the wake and performing tricks. But the similarities end there. Unlike waterskiing, which is generally a fast sport, wakeboarding is all about a slow ride. Boarders can ride the resulting giant wave with or without a tow rope. 
Proponents of wakeboarding say the fun of the sport is the much higher wake, and they cite the economic benefits created by its growing popularity. Detractors say the higher wakes—which can be four to six feet—erode shorelines and pose a danger to swimmers, small watercraft and moored boats. They also cite the potential for ballast water to spread invasive weeds.  
Wakeboarding is not new, but its spurt in popularity has brought it into conflict with owners of wake-averse craft like small pontoon boats, paddleboards and kayaks, according to BoatUS, the country's largest organization of recreational boat owners. That has led a growing number of municipalities to impose regulations and restrictions. 
BoatUS this year published an article recommending a list of common sense wake boat "Etiquette Tips," including staying at least 150 feet from shore, avoiding close passes to other boats, and keeping music at a responsible level. 
Pat Massa, head of Smith Mountain Water Safety Council in Roanoke, Virginia, was quoted in the article saying better law enforcement may be a good idea, but better education is more likely the answer. 
"Some who are new to the sport don't realize the problems they cause," Massa said. "People have already been hurt on the lake from these big wakes, and I think if people knew the damage they can cause, they'd be more respectful of other boaters and property owners."