Freedom—May 21, 2020—The Tri-Town Lake Host program for Ossipee Lake has been given a green light for this year's boating season. That's the word from Ned Kucera, who coordinates the program, a state and local initiative in association with NH Lakes.
Lake Hosts greet boaters and provide a complimentary boat inspection to uncover and destroy invasive plants as boats enter and leave the lake. Those selected for the program receive a brief training course and are deployed at Pine River, Pequawket Trail or Ossipee Lake Marina.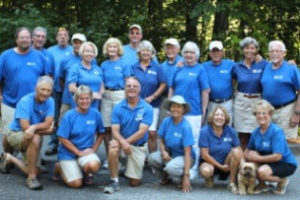 Kucera said he has two paid positions available for weekend shifts from 9 – 3 for $12 per hour. The official minimum age to apply is 18, but outstanding younger candidates will be considered. Retirees and seniors are also encouraged to apply.
There also are a number of volunteer positions available for those, such as students, looking to accrue community service hours.
Hosts need to be comfortable approaching and speaking with boaters entering and leaving the lake, and COVID-19 protections will be in place.
Those interested in either a paid or volunteer position should contact Ned Kucera at superned@hotmail.com as soon as possible. Please specify if you prefer to work in Freedom or Ossipee.