Milton—June 10, 2020—New Hampshire's Supreme Court last week unanimously upheld the Town of Milton's denial of a special exception for a major expansion proposed by Northgate Resorts for its MiTeJo Campground on Northeast Pond in that town.
The three-judge panel ruled that Northgate's appeal to the high court failed to establish that the Milton ZBA erred when it concluded the expansion would create an "undue nuisance or serious hazard to pedestrian or vehicular traffic."
The campground is in the town's low-density residential district, and avoiding impact to pedestrian and vehicle traffic is the third of five requirements that applicants must meet in order to be granted a special exception.
A Superior Court judge similarly found for the town a year ago.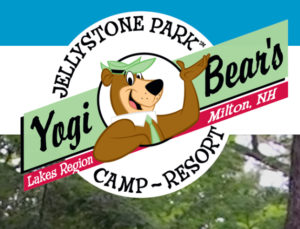 In addition to MiTeJo, which has been rebranded Yogi Bear's Jellystone Park Lakes Region, Northgate owns Westward Shores Cottages and RV Resort on Ossipee Lake, and the former Glen Ellis Family Campground in Glen.
The Michigan-based company applied to Milton officials for a special exception to increase camping capacity from 223 campsites to 396 in August 2017, five months after purchasing the property. The expansion would also have added three acres of amenities, including pools, bathhouses, water slides and a mini-golf course.
On the advice of town counsel, the ZBA ruled the expansion had potential regional impact, a decision that resulted in abutter status being granted to Acton and Lebanon, two Maine towns across the lake from Milton.
As substantial opposition to the plan developed on and around the lake, Northgate gradually reduced the proposed number of new campsites from 173 to 163 to 95. But the plan for new amenities remained substantially unchanged, according to court documents.
In the end, the ZBA ruled the expansion did not meet three of the town's five requirements for a special exception.
In addition to having the potential for "undue nuisance or serious hazard" to pedestrians and traffic, the board found the plan would be "injurious, noxious, offensive or detrimental to the neighborhood," and the proposed amenities were inconsistent with "the spirit of the ordinance and the intent of the Master Plan."
The Supreme Court panel examined only the ZBA's decision regarding the impact to pedestrians and traffic.
"Because we affirm the trial court's decision as to special exception criterion three, we need not address Three Ponds' [Northgate's] statutory arguments regarding the regional impact statutes," the panel wrote.