Freedom—October 27, 2020—Masks and social distancing were the order of the day when more than 40 people gathered last week at the Department of Environmental Services' open house for the new Ossipee Lake Dam.
In addition to state and elected officials, the attendees included representatives from Ossipee Lake Alliance, Berry Bay Association, Broad-Levitt Bay Association, and North Broad Bay Association.
What they saw was a $5.2 million state-of-the-art structure on the Freedom side of the river that that will replace the 132-year old dam at that site—a structure that has repeatedly been repaired and patched but was still in danger of failing.
The Ossipee Lake Dam is the state's largest dam construction project to date, according to Dam Bureau chief Jim Gallagher, who led the open house. More than 20 years have elapsed since the state determined the dam should be replaced.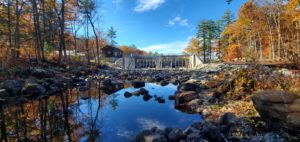 Two 7-foot stainless steel gates and automated spillway gates leading to a large underground runoff area on the Freedom side will allow state officials to increase outflow more quickly during floods. The deficiencies of the old dam in controlling water impounding have been on display for years, most especially in 1998 when flooding caused more than $1 million in damage.
The new dam is also a reminder to lake residents that the dam is the reason there is an Ossipee Lake at all. What has been a manual process of adjusting stop-blocks to keep the lake level at 407.25′ for summer boating, and lowering it to 404′ to prevent winter ice damage and accommodate spring melt, will now become an automated process.
Gallagher thanked former state representative Mark McConkey, who helped arrange funding for the project, and cited the construction consortium of Charter Contracting Company, GZA Geo Environmental, VR Concrete and Wright Pierce for work well done.
The event was a unique opportunity to see the old Freedom-side dam along with the new structure. The old dam will be demolished next month after the all the mechanicals and hydraulics of the new dam are tested.
The Effingham-side dam will remain in place for the time being and will continue to be managed manually by the state.
DES Water Division Director Thomas O'Donovan said the increased frequency of heavy rains likely caused by global warming should make the construction of new dams an imperative. He said there are 24 dams in the state that present a "high hazard."
"They have the potential of failure to either kill people or do substantial infrastructure damage if they were to fail, and we can't let that continue."