Freedom—May 26, 2020—If social media posts are an accurate indication, there are a lot of boaters who are eager to get out on the lake as the months-long, stay-at-home restrictions caused by the pandemic start to ease.
But the fact that the virus is still with us, and is still spreading, means state guidelines for social distancing will apply to boaters this year just as they apply to everyone on land.
What does social distancing on the lake mean? It starts with a 'no rafting' recommendation by the Marine Patrol. That would include large gatherings of people and boats at places like Spindle Point, Berry Bay and Long Sands.
It also means "No guests on your boat!" according to a poster circulated by Marine Patrol, which is part of the N.H. Department of Safety Services.
The 'no guests' advisory includes "family members NOT in your immediate household and your closest boating buddies," per the poster.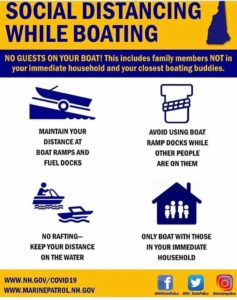 Boaters are advised to avoid using docks while others are using them, or at least to maintain social distance with others if fueling-up or getting supplies is a necessity. The number of people permitted inside shorefront stores, such as at marinas, is currently limited based on the state's guidance for retail outlets.
Marine Patrol Captain Timothy Dunleavy told Ossipee Lake Alliance his department's recommendations are based on best practices advocated by the CDC and U.S. Coast Guard.
The lake's ramps will all be open this year, including the public ramp on Route 25, which is managed by N.H. Fish & Game's Public Boat Access Program.
In an email exchange with the Alliance, Garret Graaskamp, coordinator of the program, said "The process of launching boats lends itself well to social distancing guidelines…as people have to be at various separate points around the trailer to release or gather the boat."
"We have not added any additional guidance at this point," he said.
Lake Hosts, at Route 25 and elsewhere on the lake, will practice social distancing and will be complying with whatever other state guidelines are in place during the summer, according to Ned Kucera, who coordinates the tri-town initiative.
All of the state's advisories in regard to the pandemic are works in progress, including those covering lakes like ours. While restrictions are gradually being relaxed at the moment, a spike in infections could change that.
As Captain Dunleavy put it, "I urge all boaters to follow the recommendations as long as COVID-19 is active," adding that he hopes boaters will encourage one other to do the right thing and help keep the virus from spreading.